About Us
PIXELS is a leading brand in electronics since 1990.With its consistency of performance and reliability of various equipments the company is reaching new heights in the market.
PIXELS having expertise in the field of electronics since last 27 years is now coming with the full range of Solar Products with a vision to provide environment friendly Solar energy solutions to the nation.
PIXELS is known for its quality products & extraordinary after sales services. We are committed to give our best products at affordable prices.
PIXELS is having lakhs of satisfied customers all over India. Our major quality products include Automatic Voltage Stabilizers, Servo Voltage Stabilizers, Online UPS, Offline UPS, Inverters, Batteries, etc.
Established in 1989 by Mr. Sunil Bafna (B.E.) in a rented garage. Company has grown leaps and bounds thanks to the quality of its products, dedication of team and trust of channel partners.
We have two ISO 9001:2008 modern manufacturing units in Roorkee, Uttarakhand and one in Kota, Rajasthan.
With introduction of Conveyorised Assembly lines and Pneumatic tools, company has acheived CHINESE way of high scale production.
Use of latest micro-controller based digital circuits for higher reliability and performance.
Our Journey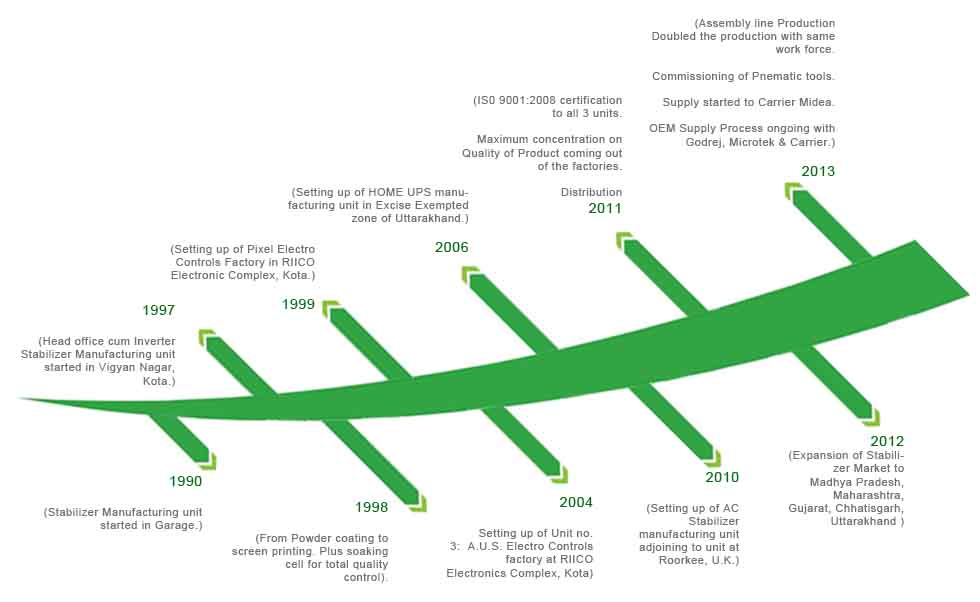 Pixel Electro Controls because........
Timely delivery of products.
High degree customer satisfaction.
Our efficient after sales service network, committed to provide the best service, any where and any time.
Our experienced and committed engineers, engaged in designing, developing of products to the best of their ability.
Diverse industrial sectors as a part of our clientele such as nursing homes and hospitals, business houses, atomic power projects, thermal power projects, etc.